In the last few years, superfoods have been big news. It's perhaps no surprise that people are seeking out these magic ingredients that give you more nutrient bang for your buck. But beyond reaching for that kale, chia and wheatgrass smoothie to feel good from the inside out, can superfoods in skincare help you feel good from the outside in too?
What Are Superfoods?
Superfoods are nutrient-dense ingredients. These foods will usually be very high in antioxidants, fibre, fatty acids and vitamins. All of which can help to reduce the risk of disease and inflammation, while improving health and wellbeing.
Ingredients such as blueberries, acai, broccoli, kale and pomegranate all count as superfoods because of the many benefits they can offer.
Are Superfoods Important In Skincare?
Many superfoods offer benefits, whether using them internally or topically. In terms of superfoods in skincare, it is important to look out for the ingredients that can make the most effective benefits to our skin.
These will be the ingredients that contain essential omega 3 and 6 fatty acids that improve the skin barrier or antioxidants that can prevent skin damage and lessen the signs of ageing. They could also be the ingredients that will enhance the skin's moisture levels. Consequently, they can help to prevent dryness, itchiness and flaking.
The Best Superfoods In Skincare
Want to incorporate superfoods into your skincare regime? Then, look out for these powerful superfood ingredients in your next beauty product.
Turmeric
This incredible, golden spice offers a vast number of benefits and is well known for its anti-inflammatory properties and ability to fight free radicals. In skincare, it can help to improve the skin's vitality, enhancing a healthy glow. The House Of Purple Rose uses turmeric in the Regenerating Gold Concentrate Serum to help promote an even skin tone and to brighten any dark patches.
Cacao
Healthy superfood selection in wooden bowls. High in antioxidants, vitamins, minerals and anthocyanins. Not only does cacao boost our mood when eaten as chocolate, but it can also do wonders for the skin too. Cacao is rich in antioxidants that can help to protect the skin from pollution and environmental damage as well as UV damage too. Furthermore, cacao works hard to improve cell function and blood flow, which can help to reduce the signs of ageing. We use cacao in our Clarifying Masque with Diamond  to help transform a dull complexion into a beautiful, healthy glow.
Bladderwrack
Algae and seaweed such as bladderwrack are known for their powerful inflammatory properties. Bladderwrack contains a whole host of nutrients such as silicon, potassium, calcium and magnesium. It can help to soothe the skin and improve dryness, itchiness and other irritations. In our powerhouse serum, bladderwrack plays a vital role in helping to address skincare concerns.
Improve Your Skin With A Superfood Smoothie
Don't forget; superfoods can support and boost your skin from the inside out. Try this glow-boosting smoothie recipe to get your superfood fix;
Glow-Getting Sunshine Smoothie
In your blender, blitz together;
• 1 carrot
• 1 peeled kiwi
• 1 teaspoon of baobab powder
• 1 teaspoon of turmeric
• ½ a mango
• ½ an avocado
• A handful of strawberries
• Water or ice
This smoothie is packed full of vitamin C as well as beta-carotene, which is essential for healthy skin. Furthermore, the healthy fats and anti-inflammatory properties help to protect the skin's barrier and improve skin vitality and plumpness.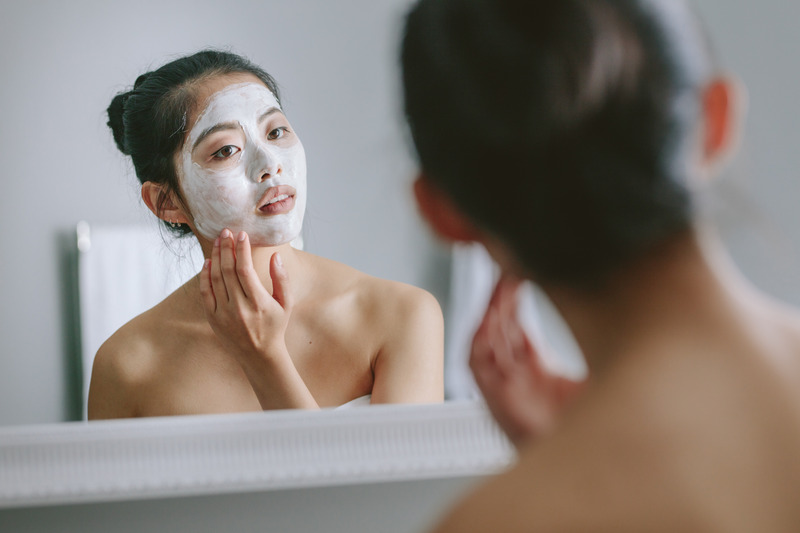 Improve Your Skin With A Superfood Facemask
If you want to improve your skin with superfoods, then here is a quick and easy DIY face mask recipe full of skin-nourishing ingredients. This face mask is ideal for dull skin and hyper-pigmentation. However, the lactic acid may not suit sensitive skin types;
DIY Brightening Superfood Facemask
• 1 tablespoon of raw honey
• 1 tablespoon of full-fat Greek yoghurt
• 1 tablespoon of camu powder
• 1 tablespoon of cacao powder
• 1 teaspoon of turmeric.
Mix together and apply for ten minutes before rinsing the face. You can also add green tea if you need to reduce the thickness of the mask.
Let's all continue to stay safe !